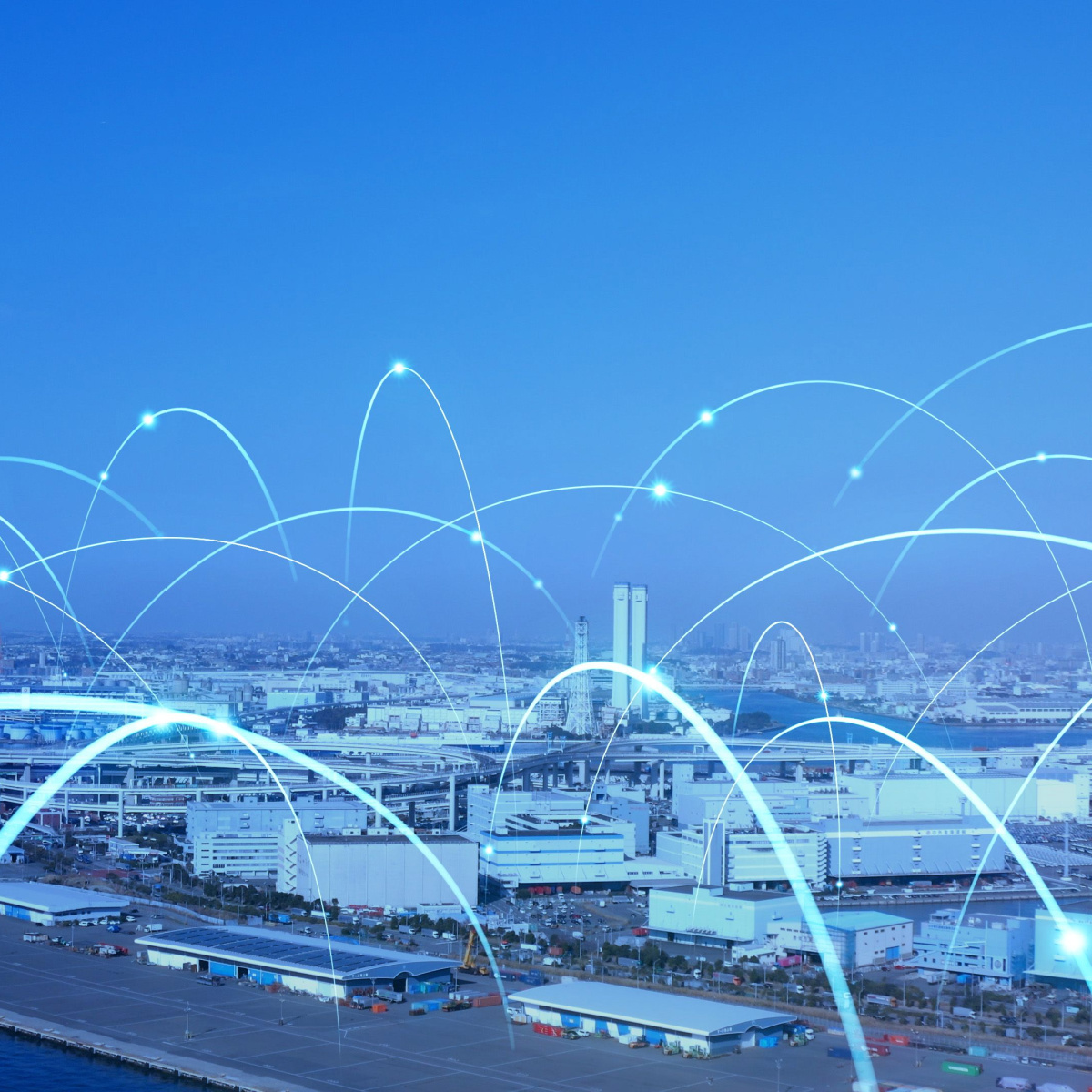 Trade is a very competitive industry to operate in. Competition arises not between trade companies but instead between the supply chain management processes. The supply chain is a competitive advantage in each organization. In addition to finding a serious trade partner, challenges differ from packaging, customs, and logistics to finding adequate storing locals. Yet, in trade, a good supply chain management is a key factor either for success or failure. Consequently, supply chain visibility solutions are introduced in today's world of business in order to make trading more efficient and provide businessmen with control over the course of trade.
The supply chain visibility is the practice of collecting, storing and analyzing the relevant data to track the flow of materials as they move through the supply chain from suppliers to producers to the end-consumers (ORTEC, 2018).
Overall, technologies keep developing to optimize risk management in the supply chain. And, Africa today is keen on discovering and adapting to the world pace. The commitment of the continent to the latest supply chain management technologies is essential to raise the interest of the world and convert them towards business opportunities in Africa. Nevertheless, the supply chain is indeed a sequence of perplexed links of processes. In fact, Freight is one of the most critical links of the supply chain, as it is the point of transporting your goods from supplier to the final destination while keeping the merchandise in perfect conditions. So, what are the latest technology trends in the freight industry?
Latest technology trends in the freight industry
The process of freight forwarding gets more challenging while the shipping is on an international level with sensitive goods. Thus, freight is much more complex and delicate than a simple transportation operation. Moreover, types of freight vary to air, ocean freight and truckload where the right choice of freight type and freight company impact the success of the supply chain loop. However, optimization of freight is the crucial element of the trade success equation.
Artificial intelligence is a science that provides software with the ability to adapt to changes around which is beyond a program of technical commands. This science combines interrelated technologies to detect, analyze and optimize solutions. This means that artificial intelligence base solutions on past experiences. It is called artificial intelligence for its close logical functioning to the human brain. In the freight industry, this science provides a set of software and technologies for optimizing the industry as a whole. Nevertheless, most of today technologies that benefit from artificial intelligence are The Internet of Things (IoT).
The Internet of Things (IoT)
The internet of things is a technology with a fixed set of commands that expands connectivity from people to things. Various industries use IoT such as manufacturing, agriculture, healthcare, and transportation. In freight specifically, The Internet of Things (IoT) does simply allow traders to connect to their merchandise. Meaning it provides logistics managers with control and visibility over the freight forwarding of their goods.
The internet of things works with the geo-fencing, fleet management, public transit management, and optimal Asset utilization tools. These tools help in tracking the real-time location of the vehicle and the merchandise it contains. The advanced GPS helps in allows you to receive alerts when a driver deviates from the prescribed path. This provides advanced analytics of transportation data allowing improvement and optimization of the freight.
The Internet of Things (IoT) provides several solutions to the supply chain as transparent transportation practices, better maintenance, security, the accuracy of data and conditions monitoring during shipment in terms of temperatures, vibrations, and shocks.
Advanced Machine Learning
'Machine learning (ML) is a category of algorithm that allows software applications to become more accurate in predicting outcomes without being explicitly programmed. The basic premise of machine learning is to build algorithms that can receive input data and use statistical analysis to predict an output while updating outputs as new data becomes available.' (MARGARET Rouse, 2016).
Machine learning is usually used in studying and predicting customer behavior. For instance, Facebook and other social media platforms offer to its users' recommendations of exactly what customers were to search or just thinking of. The proposition of these platforms is usually right because they are based on a close study of the user online behavior. The tool used for that is Machine learning. However, machine learning uses to go beyond B2C. In B2B, Machine learning is used big time. Logistics uses Machine learning innovation to optimize and accelerate the pace of decision making. The latter helps in providing cost-saving solutions and efficiency of logistics operation. The capacity of machine learning in solving problems goes beyond human abilities as it uses real-time dynamic attributes to customize best analytical models to lower supplier risks, optimize routes and supplier delivery performance, minimize freight costs, and save time.
IoT applications
Connected application in freight gives an eye on the merchandise inside the cargo. In otherworld's, the supplier can be at home in Nigeria and see, track and connect with the merchandise while traveling to its final destination. IoT applications attributes go beyond connectivity to protection. Protection is very important especially when we deal with sensitive merchandises. For instance, perishables are products that can be rotten easily if they are not in a well-fitted temperature which will cause humongous financial losses. IoT application connectivity enables the users to see, have analytics then detect the problem, and fix it in a short amount of time.
Cloud-Based Solutions
Cloud-based solutions are based on strategies and tasks developed by cloud management software. The software itself is a form of a cloud. The cloud is developed with a technology designed to monitor data and applications existing within. Companies are very keen to use cloud-based solutions for their cost-saving benefits. In the logistics industry, freight companies are adopting greatly cloud management tools.
These tools offer various benefits as:
Smart time and resource management
Cost mainframe
Effective evaluation and analysis
Problems detection and optimization
How strong is the presence of Africa in the digital nexus?
Indeed, Africa is an emerging market and the richest in terms of natural resources. Recourses in Africa is very diverse, it has great quantity in mineral, agricultural, renewable energy, and human resources.
Nigeria is the 12th largest producer of petroleum in the world and the 8th largest exporter and has the 10th largest proven reserves.
Botswana Jwaneng and Orapa are the largest diamond mines in the world along with very high coal production.
South Africa and Morocco are the biggest producers of renewable energy worldwide.
Noor Complex is the world's largest concentrated solar power (CSP) plant, located in the Sahara Desert, Morocco.
World best quality coffee, Arabica, is produced in Ethiopia. Making the continent in the top five producers of coffee with 384,000 metric tons (846,575,000 pounds).
The Ivory Coast supplies 30 percent of the world's total cocoa, leading the rest of the world by over half a million metric tons with a total crop of 1,448,992 ton.
The current population of Africa is 1,312,605,426, based on the latest United Nations estimates. The median age in Africa is 19.4 years. A vast young human resource reflects great human potential. This will serve the continent ambitions toward industrialization.
Overall, Africa is a continent full of resources in diverse fields, yet there are various question marks on how far African economy integrates new technology.
Africa and technology development
Technology is a changing element for economic growth in general. In fact, it can help developing countries leapfrog years of economic delays and connect to the digital sphere internationally. Indeed, Africa is the richest in recourses with the highest percentage of early-stage entrepreneurship in the world. Thus, the domestic economy should be adapted to the youth will to peer the rest of the world. Lack of connectivity and data jeopardize African digital economy ambitions. As a matter of fact, digitalizing African economy needs to cover all the variables controlling the economic equation. Such as;
Digital infrastructure,
literacy and skills,
financial services,
digital entrepreneurship and innovation.
Implementing technology in supply chain faces an unfavorable environment. The investment of the African continent in artificial intelligence is weak compared to the rest of the world. Nevertheless, some African countries are introducing AI solution in several fields. Kenya, Nigeria, Ghana, Ethiopia, and South Africa are the continent leaders in integrating AI in several fields such as financial services, agriculture, and healthcare sectors. Having said that, trade is one of the vital sectors that are in urgent need of digitalization. Optimizing trade in Africa will connect the continent to the rest of the world and encourage traders on various levels to consider Africa as a qualified partner for both imports and exports operations. Trade optimization involves several channels, yet supply chain optimization is vital to better trade.
Freight digitalization in Africa
South Africa is definitely the leader in the continent in terms of integrating technology in its supply chain. Moreover, freight digitalization and especial maritime freight will contribute to transforming the maritime industry. According to Higher Education and Training Minister Blade Nzimande, digitalizing the maritime industry will add R129bn and R177bn to the GDP by 2033, and in so doing, creating 800 000 to 1 000 000 jobs. "Ships can receive up-to-the-minute data and information about weather, incidents, potential obstacles and more, letting them re-route to a safer or calmer path if necessary," says Ebbenhorst, business development manager of Satellite at Orange Business Services.